Year of the Rat is just around the corner.  The official day is January 25, 2020.  Come celebrate the Lunar New Year with us from January 24 to February 2, 2020.  Our exclusive Dinners for Two and Dinners for Four are only available for dining-in at suppertime, featuring our popular Crispy Skin Chicken and Mandarin Shrimp.  Remember to order the chicken when you make your reservation. Read More…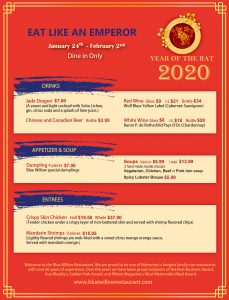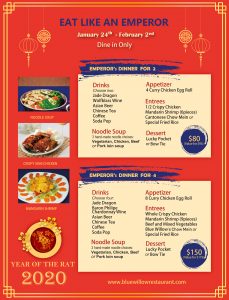 In China, the Lunar New Year celebration starts on New Year's Eve for 15 days till the Lantern Festival.  This is a new beginning—"out with the old, in with the new", a time to reunite with families and friends over good food, celebrate with fireworks and wish for a new year filled with prosperity and happiness.
ARE YOU A RAT?
If you were born in 1912, 1924, 1636, 1948, 1960, 1984, 1996 or 2008,  you are a RAT.
The first sign of the Chinese zodiac is the sign of the rat because rats are clever, popular and charming. It is said that the Jade Emperor wanted to celebrate his birthday by holding a race for his favorite animals.  The first 12 animals to finish the race will become the symbols of the lunar calendar. The rat was clever and jumped on the back of an ox.  Once they crossed the river, the rat quickly jumped off and raced to the finish line, thus coming first in the race. The other 11 animals are the ox, tiger, rabbit, dragon, snake, horse, sheep, monkey, roster, dog and pig.
People born in the Year of the Rat are intelligent, diplomatic and can adapt to any situations and solve problems with ease.  They are charming, social and fun loving.  However, they can also be greedy and full of themselves.  In 2020, there will be many opportunities for them.  These changes can be financially beneficial but they will need to work hard to achieve them.
Celebrities born in the Year of the Rat include:
Wayne Gretzky, the Queen Mother, Buddy Holly, Jimmy Carter, LeBron James, Mark Zuckerberg, Prince Harry, Cameron Diaz, Richard Nixon, Eminem, Wilt Chamberlain, Pope Francis, Marlon Brando, Mary Tyler Moore