8th Annual Suzanne Mah Memorial Golf Tournament was held on June 11, 2017, at JR Golf Course. 71 golfers participated in the event and enjoyed the luncheon at Blue Willow Restaurant. Brantt Myhres, Player Assistance Director for LA Kings, spoke about his experience as a young NHL player and how he is now a life coach for the players. This was a enlightening presentation of a unique & necessary program.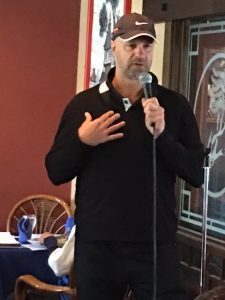 From the silent auction, raffles, 50/50 sales and cash donations, we raised over $4800 for the Lite House in the Cross Cancer Institute (CCI) and for other volunteer programs at the Cross. Total contributions in Suzanne's memory is over $49,800.
Thank you to all participants! See you next year.