GUNG HAY FAT CHOY!  "Happy and Prosperous New Year "
February 12, 2021 — Year of the Ox
Welcome Back.  We missed you.
Join us from February 9 to 19, 2021 to celebrate the Year of the Ox.  Our exclusive menu features our popular Crispy Skin Chicken and Mandarin Shrimp and is only available for dining-in.  Remember to order the chicken when you make your reservation.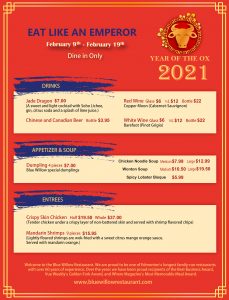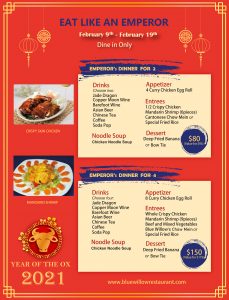 In China, the Lunar New Year celebration starts on New Year's Eve for 15 days till the Lantern Festival.  This is a new beginning—"out with the old, in with the new", a time to reunite with families and friends over good food, celebrate with fireworks and wish for a new year filled with prosperity and happiness.
This year will be different.  We will celebrate in person with people whom we live with and virtually with other family members and friends.
The ox signifies hard work, honesty and positivity; characteristics we all need during this pandemic.
Ox is the second sign of the Chinese zodiac.  It is said that the Jade Emperor wanted to celebrate his birthday by holding a race for his favorite animals.  The first 12 animals to finish the race will become the symbols of the lunar calendar.  The rat was clever and jumped on the back of an ox.  Once they crossed the river, the rat quickly jumped off and raced to the finish line, thus coming first in the race. The ox came in second, beating the other animals to the finish line. The other 10 animals are the tiger, rabbit, dragon, snake, horse, sheep, monkey, roster, dog and pig.
ARE YOU AN OX?
If you were born in 1925, 1937, 1949, 1961, 1973, 1985, 1997 or 2009, you are an OX.
People born in the Year of the Ox are strong, reliable, patient, calm, and inspire confidence in others.  They make great leaders.  However, they can also be stubborn, opinionated and believe strongly in themselves.
They are most compatible with people born in the Year of the Rat, Rooster and Monkey.  They are least compatible with Tiger, Dragon, Horse and Sheep.
Celebrities born in the Year of the Ox include:
Barak Obama, Princess Diana, Bruno Mars, Naomi Osaka, Walt Disney, Louis Armstrong, Billy Joel, Malala Yousafzal, Margaret Thatcher, Jesse Owens, Ed Sullivan, Walt Disney, Malcolm X, Yogi Berra, Paul Newman, George Takei.