Join us from January 28 to February 6, 2022 to celebrate the Year of the Tiger.  This is only available for dining-in and features our popular Crispy Skin Chicken and Mandarin Shrimp.  Remember to order the chicken when you make your reservation.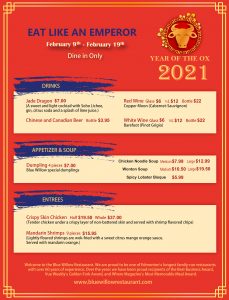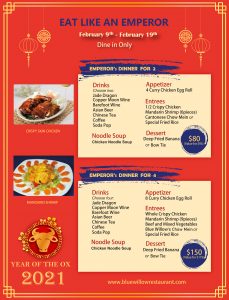 In China, preparation for the Lunar Year begins with a thorough cleaning of the house.  This symbolizes the sweeping away of bad luck from the previous year and preparing the home for good fortune.  This must be completed before the new year.
Lunar New Year Eve will find the extended family gathered together for a feast called "reunion dinner".   Adults would give the children red packages which contain money, signifying the passing of good fortune.  Sometimes, the children will give their elders red envelopes as well, showing gratitude and wish for longevity.
Fireworks and firecrackers are set off to ward off evil spirits and welcome the new year.  Lion or dragon dances are performed for prosperity and good luck for the new year.
Lunar New Year is celebrated with good food and visits with friends and family.
This is the Year of the Tiger – Water Tiger to be specific.  Associated with the 12 zodiac signs are the 5 elements — water, fire, earth, gold (metal) and wood, which brings their own traits.  People born in the Year of the Tiger are brave, competitive, confident, charming and are well liked.  However, they can also be impulsive, irritable and over-indulgent.  Water tigers are humorous, smart, able to adapt quickly, are good with socializing and in making money.
Personalities born in the Year of the Tiger include Queen Elizabeth II, Leonardo de Caprio, Lady Gaga, Karl Marx, Joseph Stalin, Ludwig van Beethoven.
2022 horoscope for the people born in 1938, 1950, 1962, 1974, 1986, 1998, 2010, 2022 :
Love – good year for a Tiger to find their significant others and to marry.
Career – have opportunities for promotion
Wealth – be careful entering into monetary relations with others. Don't expect big windfalls.
BLUE WILLOW'S WISH FOR EVERYBODY :
PEACE, GOOD HEALTH, HAPPINESS AND PROSPERITY IN THIS LUNAR NEW YEAR of the TIGER.