Celebrate the Year of the Rabbit with us from January 17th  – 29th .  This is only available for dining-in and features our popular Crispy Skin Chicken and Mandarin Shrimp.  Remember to order the chicken when you make your reservation.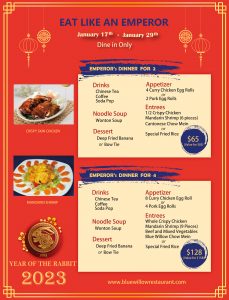 In China, the Lunar New Year celebration starts on New Year's Eve and continues for 15 days till the Lantern Festival.  This is a new beginning—"out with the old, in with the new", a time to reunite with families and friends over good food, celebrate with fireworks (to scare evil spirits away) and wish for a new year filled with prosperity and happiness.
ARE YOU a RABBIT?
If you were born in 1951, 1963, 1975, 1987, 1999, 2011, you are a Rabbit.
People born in the Year of the Rabbit are quiet, gentle, approachable, creative, witty, agile and adaptable; however, they can also be very moody.  When a Rabbit encounters a difficulty, he is not discouraged but remain persistent to find a solution, eventually achieving enviable success. They are clever in business and usually have a very tranquil life.
They are most compatible with people born in the Year of the Sheep, Dog, and Pig.  They are least compatible with a Rat or Rooster.
Best careers for a Rabbit include:  fields in education, religion, health care, politics, police/judiciary work and medicine.
Celebrities born in the Year of the Rabbit include:  Queen Victoria, Albert Einstein, Michael Jordan, Michelle Obama, Tiger Woods, Novak Djokovic, Brad Pitt, Coreta Scott King.
BLUE WILLOW STAFF & MANAGEMENT WISH YOU  
PEACE, GOOD HEALTH, HAPPINESS AND PROSPERITY IN THIS LUNAR NEW YEAR of the RABBIT.